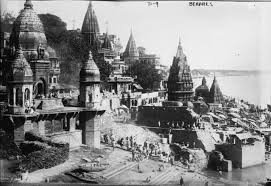 It is one of the most famous, sacred and oldest ghat in the Varanasi, Manikarnika is the most prominent & known also as the burning Ghat with historical importance, associated with the Hindu Gods, Lord Vishnu and Lord Shiva. It is considered that the one who is cremated at this ghat will attain Moksha, freedom from the cycle of Birth and Death.
Manikarnika Ghat is also famous for the temple of the Lord Shiva and Mata Durga which was built around 1850 & is the holy shrine of this Ghat.
It is also considered that the Charanapaduka (the footprints) of the Lord Vishnu is here in a circular marble slab, as Lord Vishnu has mediated for many years at this ghat.
Observatory at Man Mandir Ghat was built by Savai Jai Singh-II in 1710. Observatory has huge instruments made from stone and was once used to study the movement of sun, moon, star and other heavenly bodies. Jantar Mantar is the highlight of the observatory which is similar to Jantar Mantar located in Delhi, Jaipur, Ujjain and Mathura. There is a fine stone balcony in the northern part of the Ghat. Devotees pay homage here to the lingam of Someswar, the Lord of the Moon. Dom Raja's house is next door, with painted tigers flanking the terrace. Doms, who handle the corpses at cremation grounds, are untouchables.